YK Oscillating Granulator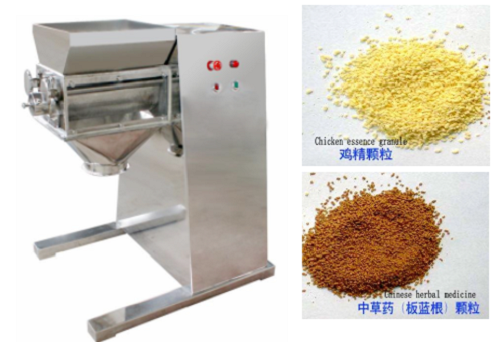 Main Application of Swing Granulator
This machine is used for forming the required granules from moist powder material, or for crushing dried block stock into granules in required size. The granulator is suitable for pharmaceutical, foodstuff, chemical, solid drink and so on industries.
Working Method of Swing Granulator
The place where should be contacted with raw material is made of stainless fully. Its appearance is beautiful and taste and its clean is very convenient and its operation is simple and its energy consumption is low.
The drum is swung repeatedly through mechanical driving, which makes the material extruded from sieve, further granulated or crushed or speedily palletized.
Its main features are: the sieve can be removed and remounted easily; its tension is also adjustable. The rotor also can be removed and cleaned conveniently. The driving mechanism is totally enclosed in the machine body and its lubrication system makes the machine work smoothly.