LPG-5 Plus Lab Spray Dryer Description
LPG-5 Plus Model spray dryer machine is a wide applied process in liquid process shaping and drying industry. It is upgraded version of lpg-5 type spray dryer which is large chamber and two-stages cyclone separators. Particularly it is suitable for producing powder, granule or block solid product from solution, emulsion, suspending liquid and pumped paste liquid. Therefore when the distribution of granule size, final moisture, bulk density, granule shape of finished product must be conformed to accuracy standard, the spray drying is an ideal process.
Application of LPG-5 Plus Laboratory Spray Dryer
LPG-5 Plus model lab/pilot spray dryer is widely used in foodstuff, pharmaceutical and chemical industry, such as egg powder, amino acid product, protein, blood, food flavor, food ingredients, pectin, carrageenan, spirulina, herbal extraction, pigment, cocoa, mushroom, PAC, malt dextrin, collagen, juice, yeast, Coffee, Creamer, coconut, milk, gelatin, gum and acacia etc.
Lab Spray Dryer Machine Working Principle
After filtering and heating, the hot fresh air enter into the air distributor at the top of drying chamber, distributed in spiral way uniformly from up to down. At the same time, the feeding liquid is pumped to the top atomizer, then be sprayed to extremely fine mist liquid drop. Through the short time of direct contact with hot air, the moisture evaporated at once, the solid remains to be powder. The dry powder will be discharged continuously from the bottom of drying tower and cyclone collector, the exhaust air will be discharged after cleaning.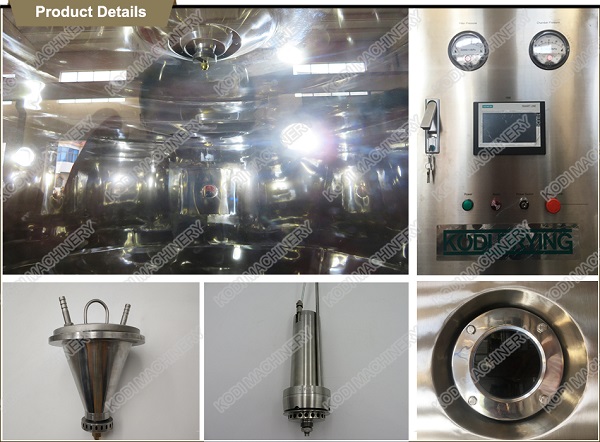 LPG-5 Plus Lab Spray Dryer Machine Technical Data
Max Evaporation

5~7Kg/h

Inner Dia/Height

~1.2M/~2.8M

Operation temperature

Inlet 180℃

Outlet 90℃

Atomizer

Dia 50mm

Pneumatic or

electric driving

Power

Drive:1.65KW

Water consumption

0.1m3/h

Heater:21KW







Type

Open circle

Feeder

peristaltic pump

Air contact

Co-current

Heater

Electric heater

Collection

Cyclone

Atomizer

Centrifugal atomizer

Overall size

3.0x1.9x2.5

Net Weight

About 850Kg

Packing

Plywood box

Power

3Ph, 220-415V, 50/60Hz
Parameters of KODI Laboratory Spray Dryer Machine
No.

Item

Model

Qty

Material

Notes

Feeding system

1

peristaltic pump

BT-100

1set

Sanitary

2

Feeding tube

1set

Sanitary

Sanitary grade silicone tube

Circulation system

1

Blower

1set

SUS304

0.55KW

2

Suction fan

1set

SUS304

1.1KW

3

Hot air pipe

1set

SUS304

4

Exhaust pipe

1set

SUS304

5

Pipe fittings

1set

SUS304

Flange type or quick assembly type

Air system

1

Air filter

1set

Frame

SUS304

Initial and middle

Non-fabric cloth

2

Electric heater

21Kw

1set

SUS304

Main dryer

1

Drying chamber

D1200H2800

1set

SUS304

Full welded both inside and outside, inner mirror polishing

2

Inlet air cover

1set

SUS304

3

Atomizer

1set

SUS304

4

Light

100W

1set

5

Manhole

1set

SUS304

6

Insulation

Rock wool

7

Air hammer

SK40

2sets

Aluminum

Powder collection system

1

One-stage cyclone separator

1set

SUS304

2

Butterfly valve

1set

SUS304

3

Product bin

1set

SUS304

4

Two-stage cyclone separator

1set

SUS304

5

Butterfly valve

1set

SUS304

6

Product bin

1set

SUS304

Control system

1

Control box

1set

SUS304

2

Inverter

1unit

Suction fan

2

Temperature module

1set

4

HMI

SIEMENS

1set

5

PLC

SIEMENS

1set
Successful Experience Overseas of KODI LPG 5 Laboratory Spray Dryer