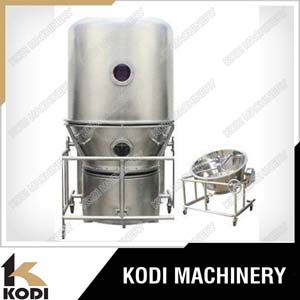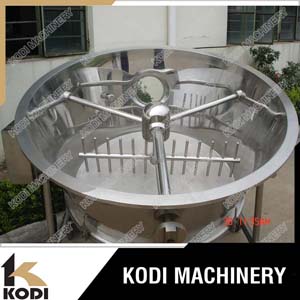 GFG Fluid Bed Dryer Description
GFG high efficient fluid bed dryer is a new style drying equipment that researched and designed by GMP pharmaceutical projects. In the practice and production, it is perfectly used with YK oscillating granulator, ZGH high efficient mixer, GHL high speed mixing granulator, ect. Now it is widely used in pharmaceutical, chemical, foodstuff, feedstuff and agrochemical industries. It has clear drying advantage for drying damp granules and powder materials. The main parts are: air filter, heater, main machine, trolley, dust removing chamber, pipe, fan and silencer. After heated and filter, hot air enters the machine from the bottom of dryer, then passed through the screen of material container. In the working chamber fluidized state is formed under the stirring and negative pressure. Water is evaporated quickly and exhausted, so the material is dried quickly.
GFG Fluid Bed Dryer Application
1,Damp granules and powder materials in pharmaceutical, foodstuff, feedstuff, chemical and agochemical industries
2,Granules made by extruder, oscillating granulator and high speed mixing granulator
3,Special big granules, small block and that has adhesive property.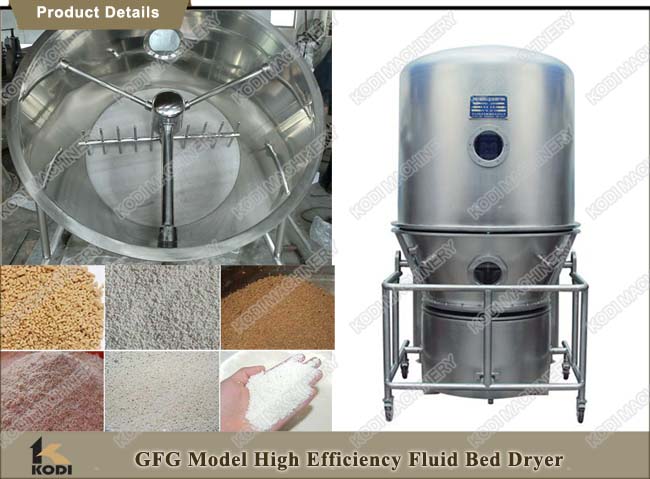 Features of GFG Fluid Bed Dryer
1, The fluid bed of dryer is round structure, it is smooth inside, no dead corner, and very easy to clean
2, Main machine is 20% higher than common design, fluidized area is increased. It can ensure the fluidized height of material in the dryer and can decrease the load of bag filter effectively.
3,Adopts double air cylinder alternately change type for dust removing, it can remove the dust completely. Bag filter is made of anti-static material, it can remove the static electricity, and avoid the material stick on the bag.
4,There is stirring device, it can avoid agglomeration of damp material and channel flow.
5,Negative pressure operate, easy to clean, occupied area in small and confirms to GMP
Working Principle of GFG Fluid Bed Dryer
Put the material (granule or powder) into the charging hopper. Meanwhile filter the dust in the air by the filter and heat the material to the demanded temperature by the heater. When the air gets through the Dutch sieve, the material is fluidized and dried. The steam is drawn by the fan through the dedust bags. The superfine powder will be collected by the filter bags and can be shaken back to the container after fluidizing by the upper shaking cylinder.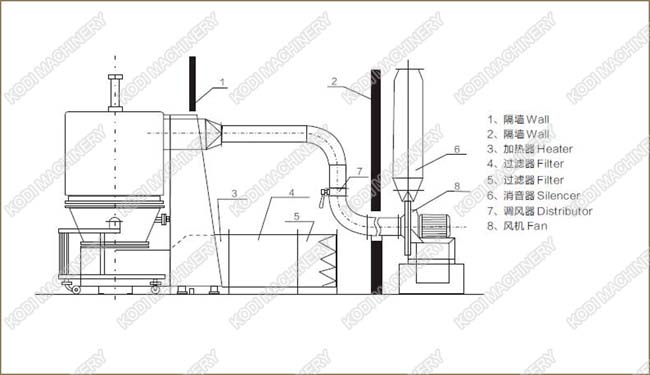 Delivery of GFG Fluid Bed Dryer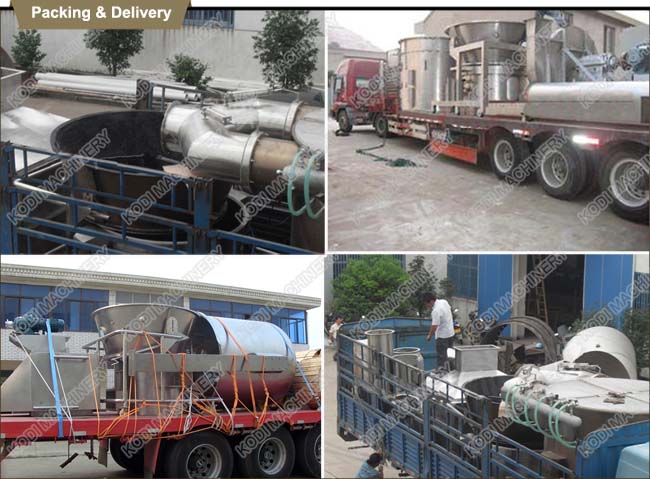 Overseas Site of GFG Fluid Bed Dryer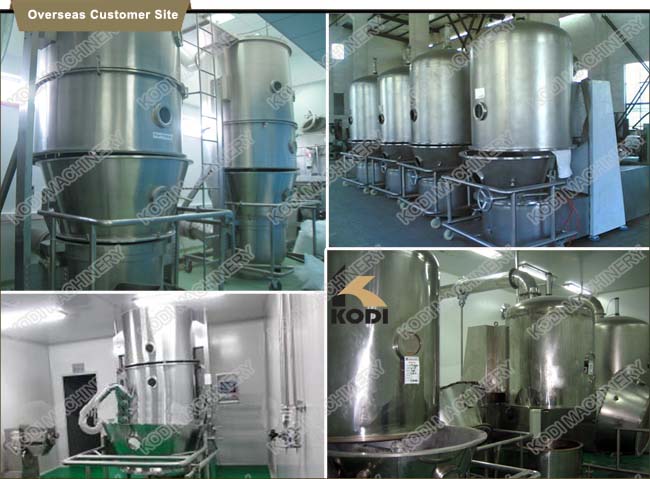 GFG Fluid Bed Dryer Technical Parameters
Item

Unit

Machine type

60

100

120

150

200

300

500

Production capacity

Kg/batch

30-60

60-100

80-120

100-150

120-200

200-300

300-500

Material container

Diameter

mm

1000

1000

1200

1300

1400

1600

1800

Volume

L

220

330

420

500

670

1000

1500

Fan

Air volume

m³/h

2361

3488

4000

4901

6032

7800

10800

Air pressure

mm H2O

594

533

533

679

787

950

950

Power

KW

7.5

11

15

18.5

22

30

45

Stirring power

Kw

0.55

0.55

0.55

0.55

0.75

0.75

1.1

Stirring speed

r.p.m

11

Steam consumption

Kg/h

141

170

210

240

282

366

451

Operating time

Min

15-45 (According to material's characters)

Height of main machine

Square

Mm

2750

2850

2850

2900

3100

3300

3650

Round

mm

2700

2900

2900

2900

3100

3600

3850